For our journey into 2022, we are Rewilding into the theme of our second colour palette. Rewilding is built on the theme of emotional response and energizing the mind, body and soul through designs that boost moods and invite positivity.
This unapologetic approach in design adds intrigue while providing joy and upbeat spaces to counteract the new normal and personality to interiors. The rooms are unique but also offer a reassuring quality because of the cool crisp colours that speak to the increased importance of cleanliness, hygiene and detoxification.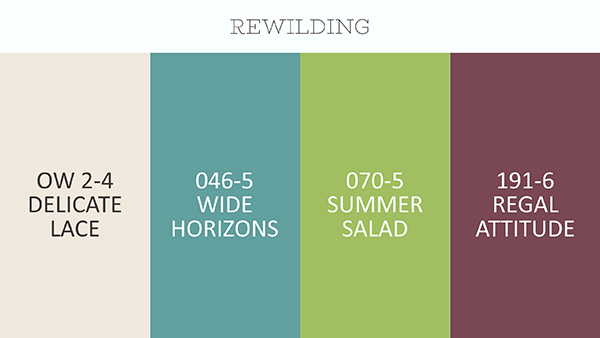 This palette has colours that encourage an emotional and mental response. In 2021 we looked to bring the outdoors in … in 2022, we are bringing this energy into the mind.
Delicate Lace – Find shelter in the soothing warmth of this off-white hue. Delicate Lace is reminiscent of a cozy sweater that envelopes an individual in comfort and security.
Wide Horizons is reminiscent of summer skies; this blue-green hue can be happy when paired with other light or bright colours or made sophisticated with darks and metallics.
Summer Salad – A saturated green with a boost of yellow. It is a bright hue. It invokes imagery of green grass, young sprouts and trees full of lush leaves.
Regal Attitude is an intense red-violet hue that takes a confident user to decorate with but can be easily subdued when paired with a colour like Delicate Lace.