With the rise of virtual worlds as an outlet for consumer creativity and expression and as a subsequent breeding ground for trends and subcultures, we have the inspiration for our third and final colour palette.
Neo Sensory is a futuristic palette of contrasts that blur the digital and natural line. The increasingly blurred line between real and digital worlds is driving a more dynamic approach to colour usage, making a colour key for futuristic visions brought to life with colour to achieve the overall hi-tech look.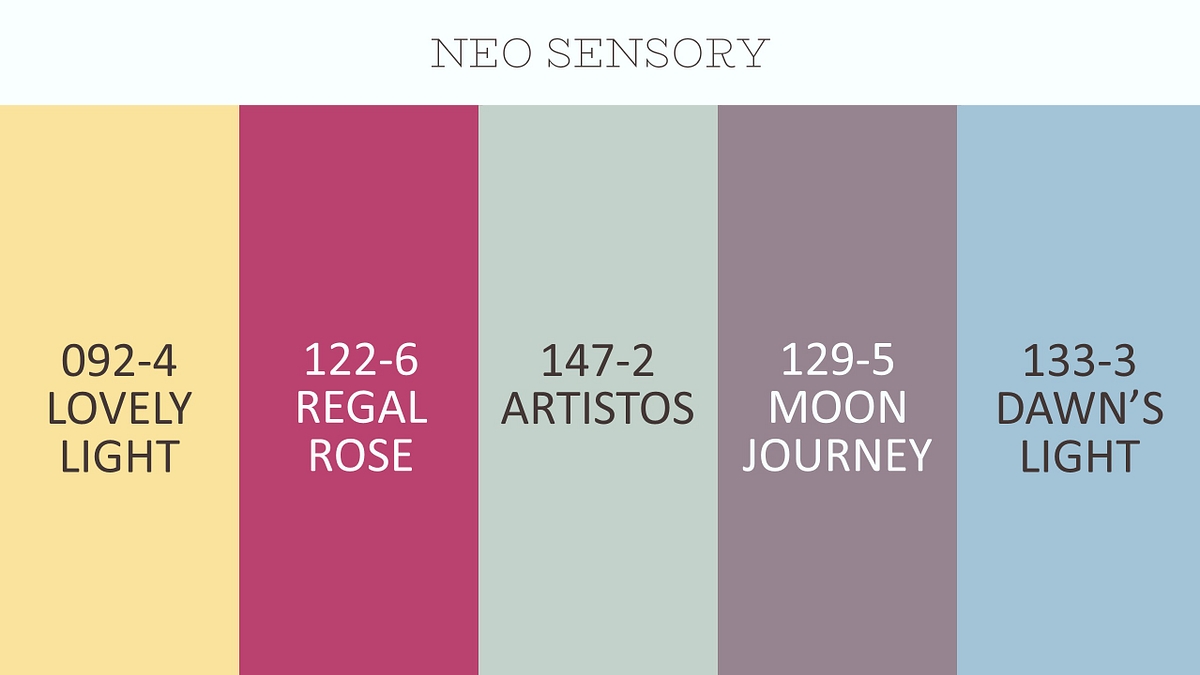 In this colour story, Neo Sensory, lighting and surface finishes are essential to heighten the impact and create theatrical and intriguing designs with festive touches. It's important to remember this story is enhanced by tech but is grounded in emotions
Starting with a yellow that taps into the reassurance of nostalgia and the energy of vibrant hues, we have Lovely Light Lemon, which is a Buttery and soft yellow. It is a warmer, more decadent alternative to the golden yellows of previous years—a glowing spark of hope and optimism for 2022.
Regal Rose A unique and bold, the rich shade of mauve-meets-orchid-meets-magenta. An undeniably stimulating bright hue with a hyper-digital quality.
Artistos – Another low chroma grey-influenced hue. Like several other complex neutrals within 2022's palette, Artistos has the same stability and comfort found in a true neutral but with the added benefit of the freshness found within greens.
Moon Journey – A complex neutral. Combination purple and grey. The undertones of this hue create beautiful movement and interest, which is why it's one of our favourites for the year!
Dawns Light- A is a romantic and charming blue with soft undertones of gray. Embodying morning rays of light, gentle rain or misty skies, overall, a very soothing colour to help cool the palette.