Everlasting is nature-inspired – but more specifically, the changing states of nature with a strong focus on authenticity. You may find that we are returning to traditional roots/heritage because we're seeing the new meaning of ancient wisdom because of the uncertainty in the world.
In this palette, you'll find some richly tinted darks that offer versatility and create a mysterious pattern with a modern edge when worked in matte and blocked designs, especially in tech goods.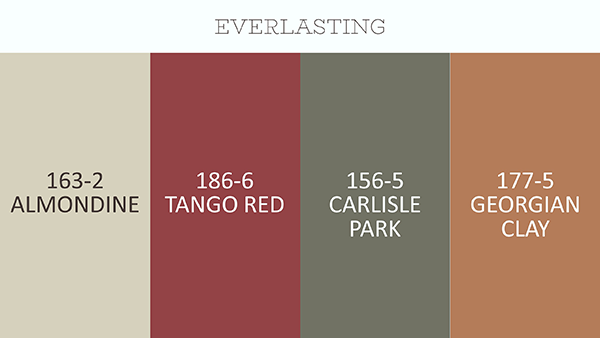 Colours that engage physically and emotionally are essential to this palette. It is important to note these are not digitally focused as other colours forecasted for 2022 are. In this palette, we have:
Almondine - Go for something a little more substantial and complex with a greige paint colour. It boasts more of an oaty warmth but with the same tone of grays. The results are a gently aged and understated hue.
Tango Red – An alluring red with all the usual invigorations found within this colour family, plus a mature quality that is more artful in its approach. It is shifting away from overly saturated digital reds and towards something more authentic.
Carlisle Park – Restorative and natural. Not too youthful in brightness and not too mature or dark. Perfectly mid-tone Carlisle Park is reminiscent of distant landscapes and waxy plants. Despite this being a complex neutral, it reads as soothing and relaxing that aids in connecting oneself to positive wellness and caring for both emotional and spiritual needs.
Georgian Clay – A nurturing and earthen hue that will aid us in cultivating a warm and natural future. Linking back to our themes of heritage as it invokes imagery of handcrafted clay pottery and décor.