Selecting the perfect paint colour for your home, it can be a daunting task. There are dozens of swatches to browse through, after a while you select a few that catch your eye, and then head to the store to purchase samples. But have you ever noticed that the paint colour that looked so perfect in the store looks completely different when you bring it home? There's a reason for that.
The science of light plays a significant role in the way colour and especially paint looks in different settings. Store Lighting is often designed to highlight the product and make it look as attractive as possible. Stores primarily use bright, white lights that accurately represent the colour of the paint. However, the lighting in your home may not be the same. This could be due to a multitude of factors. Such as, what sort of lighting you have. Is it a ceiling light? Or perhaps ambient? Maybe from one room to another you have a great deal of natural light, meaning at different times of the day the experience can be entirely different. Not to mention the temperature of the light! Ultimately, the type of lighting in a space can dramatically affect how we perceive the colour of a surface. For example, LED lights produce a cool white light that can make colours look bluer or greener, while ambient lighting can produce a warmer, yellow-toned light that can make colours look redder or yellower.
The colour temperature of the light source can also impact the paint colour's appearance. Warmer lighting, with a colour temperature of 2700K to 3000K, tends to make colours appear richer and warmer. On the other hand, cooler lighting, with a colour temperature of 3500K to 4100K, tends to make colours appear brighter and crisper.
To help with decision-making, some paint sources provide "LRV" or Light Reflectance Values. This is a standard of measurement on a scale that ranges from zero (absolute black, absorbing all light and heat) to 100% (pure white, reflecting all light). LRV is an important consideration when selecting paint colours for a variety of reasons, such as...
Helps to determine contrast: LRV can help you determine the level of contrast between different colours in a space. Higher contrast can make a room feel more dramatic, while lower contrast can create a more serene, unified look.
Impacts mood and atmosphere: The brightness or darkness of a colour can impact the mood and atmosphere of a space. Lighter colours with high LRV can create an airy, open feel, while darker colours with low LRV can create a cozy, intimate feel.
Impacts energy efficiency: LRV can also impact the energy efficiency of a space. Lighter colours with high LRV reflect more light and heat, helping to keep a space cool and reducing the need for air conditioning. Darker colours with low LRV absorb more light and heat, making a space feel warmer and potentially increasing the need for air conditioning.
Helps to ensure consistency: By using LRV values, you can ensure that the colours you choose for different elements in a space (such as walls, floors, and ceilings) have a consistent level of brightness or darkness. This can create a cohesive, harmonious look.

So, what can you do to ensure that the paint colour you choose looks just as beautiful in your home as it did in the store? Be sure to test your desired paint in the space you which to paint. Observe it in all phases of the day and determine how both natural and artificial lighting impacts the experience. The best way to do this is to order large swatches of the paint, either as a chip or paint sample to appropriately determine if the colour you have selected is the perfect choice for your space. Not able to purchase a sample, or want an instant way to observe a colour in your home? The answer is simple: use a visualizer like ColourFal® Studio!
The ColourFal® Studio app allows you to see what your selected paint colour will look like in different lighting conditions and room settings. It can save you time, money, and frustration by giving you a preview of what your finished project will look like before you purchase any paint.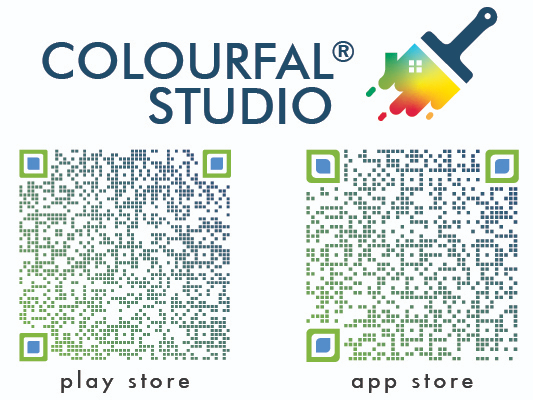 In conclusion, in-store lighting versus the lighting in your home can significantly affect the way paint colour looks. By understanding the science of lighting and using a visualizer, you can ensure that the paint colour you choose is the perfect match for your space. Take the time to explore your options and find the colour that will make your home feel like a true reflection of your style and personality.