Make any space your own with our renter friendly interior design tips. Whether starting out on your independence, seeking to save, or finding yourself in a flexible position, renting a home can be a great journey. There are of course limitations when it comes to what can and cannot be done in rental spaces. 
Below are several brilliant apartment solutions to inject personality. Using any or all of these will speedily make any rental a better and more beautiful reflection of you.
---
Paint The Walls 
Most rental agreements allow for renters to re-paint with either specific colours or any colours in an apartment. Although, it is quite common to expect needing to re-paint any wall back to white. So, we suggest choosing a lighter or softer colour to adorn your walls, which will make life much easier when it comes time to moving out.
If a pale colour is out of your personal style, then be sure to use a white paint with excellent performance. Paint qualities such as high hiding, along with second and maybe a third coat will be crucial to achieve a perfectly move out ready finish.
If painting your whole apartment feels out of your DIY-renovation abilities, pick one or two walls in your space you feel comfortable painting and turning into an accent wall! A white apartment with one or two walls of colour can feel just as luxurious and personalized as one fully painted.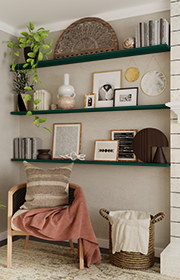 Paint Floating Shelves 
There are floating shelves that can be attached to walls without needing to drill holes in the wall – saving you from losing your security deposit. To make your apartment feel less like a generic rental unit, paint some floating shelves to either match your walls or add a splash of colour that won't need to be re-painted later!  
Matching these painted shelves with some wall art gives you the opportunity to create a gallery wall that won't damage your home, but bring some personality, colour, and utility into your apartment!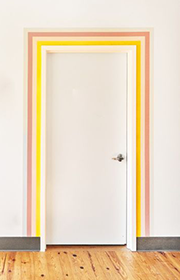 Paint Just Baseboards/Trim 
If creativity and DIY-renovations are your style; but you are hesitant to paint (and have to re-paint) the walls in your apartment, consider going for the trim and baseboards instead. Embracing your white walls and adding a pop of colour around your doorframes and baseboards can turn your home into something modern and exciting!
While you may still need to paint over these upon moving out- the task is less daunting than the full walls of your rental space. This project can take just one weekend but will entirely change and personalize the feel of your home into something beyond generic white renter walls! Lower effort with a high reward that won't break the bank or your rental agreement.
---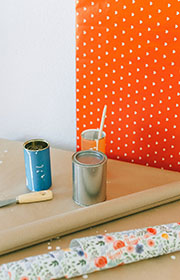 Peel-and-Stick Wallpaper For Accent Walls 
If the idea of painting and re-painting still seems too daunting; there are still ways to liven up any rental space! Peel-and-stick wallpaper offers a quick way to entirely change the walls of your home without the worry about breaking a lease agreement or going through the effort of painting your home. 

Wallpaper themes can range from simple designs and lines to liven up an accent wall, solid colours to look like a painted wall, or even mimic stone, brick and wood - natural materials that are currently very trendy within interior design. Many innovations have been made when it comes to wallpaper application, making it simple enough that just one or two people can do the job. With the added benefit of easy removal without damage adhered surfaces make moving out an easier task. With peel-and-stick wallpaper you also have the opportunity to change up the designs on your walls more frequently if you are someone who is interest in regularly changing up your living space (guilty as charged).  
---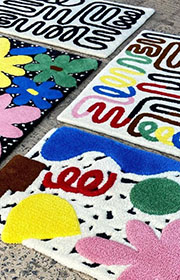 Throw Rugs 

Once you've had fun changing up your walls – or if that task still feels a little too daunting for your skills or rental agreement, try looking to the floors! Rugs can be a simple but effective way to add colour to a space and make your home feel more like "you."  
These rugs can range from bright colours to basic neutrals and can be as fluffy as you'd like – or something simple and flat, like a bamboo or wool-woven rug. 
If you are looking for something even more outside the box – punch needle rugs are on the rise! These rugs can be made yourself or ordered online and can take the shape of anything you want (you can even hang them on your walls)! Tiger-shaped rugs, flowers, or even your favourite foods can adorn the floors of your home and have the potential to even become a fun new way of expressing yourself.
---
If interested in more design inspiration and trends, visit us @colour.insights on Instagram.